CHILDREN & TEEN PROGRAMS: FALL SCHEDULE (click on the squirrel for a PDF)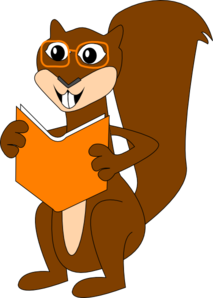 *2015 SUMMER READING PROGRAM* (click here for full details)
The Plainville Public Library Children's Department is pleased to offer this year's Summer Reading Programs, "Every Hero Has a Story" for pre-readers and readers up through grade 5, and "Unmasked" for students entering grades 6-12.
This community-wide literacy initiative features incentives and fun family programs all in an effort to encourage reading throughout the summer.
Research has shown that gains in reading proficiency throughout the school year can be lost when children cease to read over the months when school is no longer in session, a phenomenon known as "summer slide." The cumulative effect of losing three months of reading skills each summer can result in a middle school student being behind by as much as two years! Reading loss or gain each year has been shown to be tied to reading during school breaks. Therefore, the key to preventing summer reading loss and its cumulative effects is having children read throughout the summer.
While reading is its own reward, the library turns summer reading into a game through the Summer Reading Program. Sign-ups begin on Monday, June 22, and the program lasts through August 14th. Participants in the "Every Hero Has a Story" program are asked to read 20 minutes a day; for every seven days of reading, participants can earn a prize. Additionally, in order to encourage children to check out books throughout the summer, each library visit checkout will earn the children a raffle ticket for fun family prizes. Participants in the "Unmasked" program will be entered into a weekly raffle drawing for every book read and reviewed.
The Plainville Library Children's Department has put together a full schedule of activities to be offered over the course of the reading program, generously sponsored by the Friends of the Plainville Public Library. Our kickoff event takes place on Thursday, June 25th, 6:30 PM when Animal Embassy visits us for its live animal show – this all-ages program is not to be missed!! Visit our website at www.plainvillelibrary.com or stop by the Children's Department to see the full lineup of summer programs. Our goal is to make everyone's summer reading full of fun!
The Children's Department staff is here to answer your questions and help you find just the right books and materials for your summer reading needs. We look forward to seeing you at the Plainville Public Library!!!
Check Out Our Newest E-Books Available Through OverDrive!